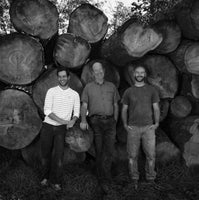 About Our Work
Stinson Studios is a two generation family woodworking business dating back to 1982.  Since that time, the Stinsons have transformed a passion for woodworking as a cathartic exercise, into a thriving business with retail partners across North America. 
Our locally sourced Canadian materials are a key to the success of our work. In particular, we are drawn to the rich natural spaulting patterns that can be found in aged or scarred wood.    
The Ambrosia Maple Bowls with "finger spaulting" or "starburst" patterns, that we have become known for, are a perfect example of spaulting that happens naturally during a trees' life span.
Over the past few decades, we have developed methods of naturally spaulting wood by burying and aging it for up to 18 months.  By embracing nature and aging we can enhance the unique characteristics of different woods and create pieces with a balance between form, function and the incredible variation found in nature.